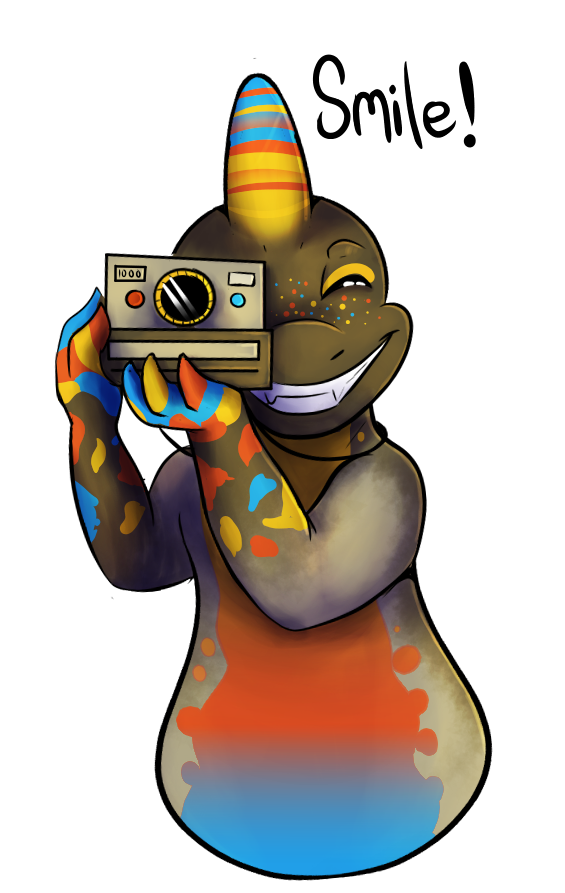 Art by @/Rosedraq
Welcome to the Snapshot Shop!

"1..2…3…. SNAP! 
Hi there! I'm Memer, the caretaker of this shop! 
I see you're seeking to update your look. Not to worry, we specialize in all sorts of styles here. 
And I'll take your photo once you're done getting ready!""

Through this shop you can both pay one of the available artists to redesign your Paralogos or buy the tools necessary to do it yourself!

 


Redesign Service
Here you can pay one of our official artists to redesign your Paralogos.
There are two types of redesigns: 
A 
Small Redesign
 is a redesign where the original design is still recognizable. 
Colors, patterns and features can be changed in moderation.
Note:
 You can use this option as a commission for a new masterlist image without any changes - just state it in your redesign form!
A 
Large Redesign
 is essentially a complete overhaul of the Paralogos' appearance. 
While it must still follow the word's theme, it doesn't have to relate to the original design at all.
Small Redesign Price

Any Level: $10
Large Redesign Prices

Level 1 - $10
Level 2 - $12
Level 3 - $13.50
Level 4 - $15
Level 5 - $17.50
Level 6 - $20

If you commission an Official Artist for these changes, you won't have to own/buy the related item - the masterlist will be updated automatically!

Companions - Custom companion designs can either (a) be added onto a redesign for the below fee or (b) purchased seperately.

Accessories - Redesigns come with two (2) optional custom accessory designs. 
All additional accessories will cost the below fee. 
If you wish to purchase a custom accessory seperately the below price will apply for all desired accessories.


Companion Price

Base Price - $8

If you already own a companion card, 
you may get a discounted price:

Normal - $7
Mythical - $8
Dinosaur - $7
Accessory Price
All customs come with
two (2) optional free custom accessory designs
.
Any additional accessories may cost a fee which will be chosen by the individual artist based on the type & amount of accessories requested.

If you're interested in a redesign, please contact one of our artists through their listed preferred contact methods with the following form:


Username: 
Payment Method: (points/paypal)
Redesign Type: (small/large)
Using voucher(s)?: (yes/no, if yes make sure you have the item in your inventory)
Masterlist Entry: 
Desired Changes:
Available Artists:
DIY Options

All these items can be purchased in the Snapshot Shop!
Redesigning

A Small Redesign Kit allows you to change/touch up the design of your Paralogos while stil keeping the original design recognizable. 

A Large Redesign Kit allows you to completely change the Paralogos' appearance, though it still MUST follow the word's theme.


Small Redesign Kit
Price for Paralogos: 25 
Price for Companions: 10 
How to Use


Large Redesign Kit
Price for Paralogos: 50 
Price for Companions: 20 
How to Use
New Artwork

A Snapshot allows you to update the masterlist image of a Paralogos or Companion.
It doesn't allow design changes, however.

Snapshot
Price: 15 
How to Use
Manipulating Magic/Wisdom

A De-Maginator allows you to reset either the entire magical progression of a Paralogos or one (1) specific magic ability. 

A Spark of Insight allows you to grant a Paralogos their next tier of magic or wisdom.

De-Maginator
Price: 25 
How to Use

Spark of Insight
Price: 70 
How to Use
Note: If you're redesigning a companion who is on their Paralogos' masterlist image you have 2 options:
1) If you have a version of the current artwork without the companion, you can send that in with the companion redesign & we'll update it for free.
2) If you don't have that, you will have to also buy a snapshot for the Paralogos and provide a new image of the Paralogos (either with or without the companion).