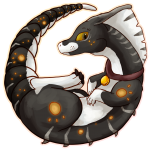 Hello! This is mewhaku (she/her + 27 years old) speaking... I own my own Closed Species, Paralogos & Whifflings!

Take a peek at my DeviantArt here.  For more social media, here's my Cardd!

Other ARPG sites I'm on:
Mothcats |  Puppillars | Fanteles | Beelzebubbies | Realm of Mynros (Mhoats)
If you ever have any questions or concerns about Paralogos, please feel free to contact me.
Bank
332

Inventory

---
There are no comments yet.
Comments
Authentication required
You must log in to post a comment.
Log in