Posted 3 months ago :: Last edited 3 months ago by
mewhaku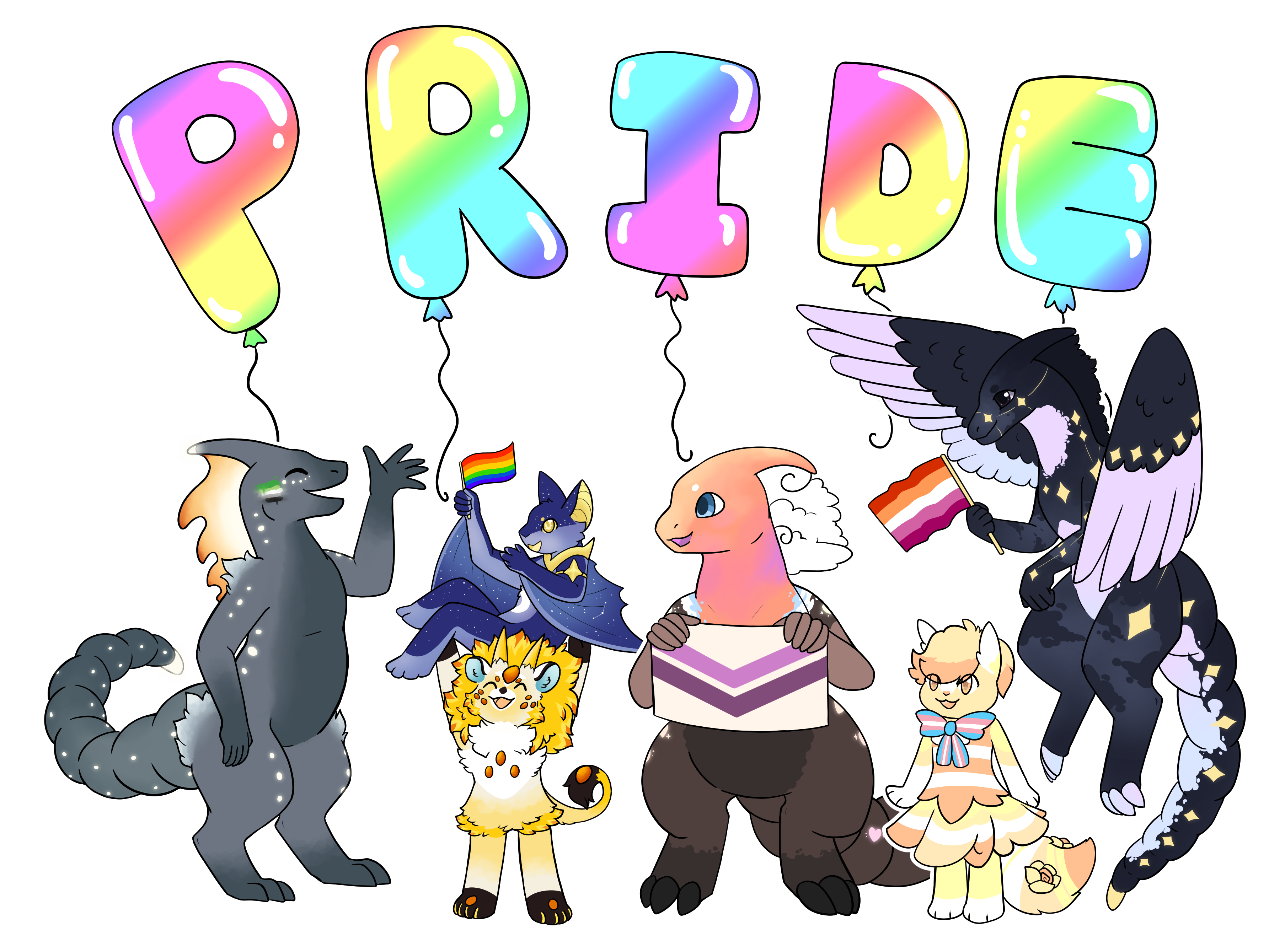 As you enter the city of Sermos, you immediately notice that it's buzzing with people. Sure, it's usually quite crowded, but this is something else entirely.
There's upbeat music blasting from every second corner, big banners and flags adorning buildings, and big colorful floats driving slowly through the filled streets. You see humans, Paralogos and Whifflings alike running around and laughing; some are carrying big flags, some are wearing them as capes, some are holding signs.

One of the celebrating Paralogos in question notices you looking around and separates out of the masses to walk up to you. 

"Happy Pride!" the Whifflings nearby yell happily.

"Welcome to Sermos' Pride festival!" the Paralogos says to you. "This year's celebration is a bit more grand than the past years, isn't it?" They point around, smiling happily. "People from everywhere around Lingua travelled here to have a good time. There's so much to see and do - we can show you around, if you'd like!"

Event Summary
Within the world of Lingua, often in June, there are many festivals celebrating elements of Pride. The residents of the capital of Sermos are known to have boisterous celebrations- citizens, caretakers, Paralogos, and even Whifflings, all coming together to celebrate one another and the multiplicity of their relationships towards others and themselves!

While Paralogos are known to be asexual by their own biology, there are many that have found themselves in various kinds of romantic relationships, and supportive friendships, or who find themselves happier alone or only having a Caregiver Bond.

Whifflings have been rumored to have offspring meanwhile, and find themselves in many kinds of relationships sometimes culminating in children on occasion, though our research is limited on how those situations may come about... it is worth investigating!

What can be known for sure is that Lingua spans wide and ranging groups of all kinds of individuals from every walk of life, and no matter who you are, these boisterous celebrations bring everyone into a joyous and excitable spirit!
 

How to Submit Entries
All event entries have to be worth at least 5 of the respective currency and have to depict one or more of the following subjects:
A relationship of whatever kind (romantic/platonic/bond/etc.).
A character's introspect about being alone or what kind of relationship(s) they dream of (romantic/platonic/bond/etc.).
A character being proud, either of themselves or someone else.
A character celebrating or being a part of the festival.
You may submit collaborations, however, every participant has to fulfill the minimum currency requirements in order to be eligible for rewards.
You may also submit monthly prompt, magic progression, or wisdom task entries as event entries, as long as they directly depict at least one of the four above mentioned subjects.

All submissions have to be new works specifically made for this event!
Who can You draw?
- Your own Paralogos, Whifflings, Companions, Pets and Caretakers
- The following NPCs/mascots: Ginkgo (demiromantic), Rot (aromantic) & Gin (demiromantic)
- Other member's Paralogos, Whifflings, Companions, Pets and Caretakers (if their gift art / gift writing status is set to "Yes")


To officially submit an entry for this event, do the following:
Upload the artwork/literature/etc to the correct gallery folder.

If your entry doubles as a monthly prompt, magic, or wisdom submission, submit it to the associated gallery folder.
Otherwise submit it to the Linguan Pride Festival folder!

Make a new submission to the event prompt based on the instructions in the prompt description.

Rewards
Every submitted event entry that fulfills the requirements will reward you with one (1) Pride Bag.




There is a Paralogos and Whiffling variant - you can freely choose which one you wish to earn for each entry!
Pride bags include currency and items related to the species in question, including loot bags/whifflebags, as well as exclusive items such as vouchers or Pair of Wings/Vial of Changing Sight!
Submitting at least one (1) event entry will also earn you the following Pride Memento at the end of the event:



Deadline
This event lasts one month, from June 1st to June 30th, 11:59 pm site-time.

The event gallery folder and event prompt have a grace period of one (1) day until July 1st, 11:59 pm to allow processing of late submissions.
---
There are no comments yet.
Comments
Authentication required
You must log in to post a comment.
Log in