Posted 4 weeks ago :: Last edited 4 weeks ago by
mewhaku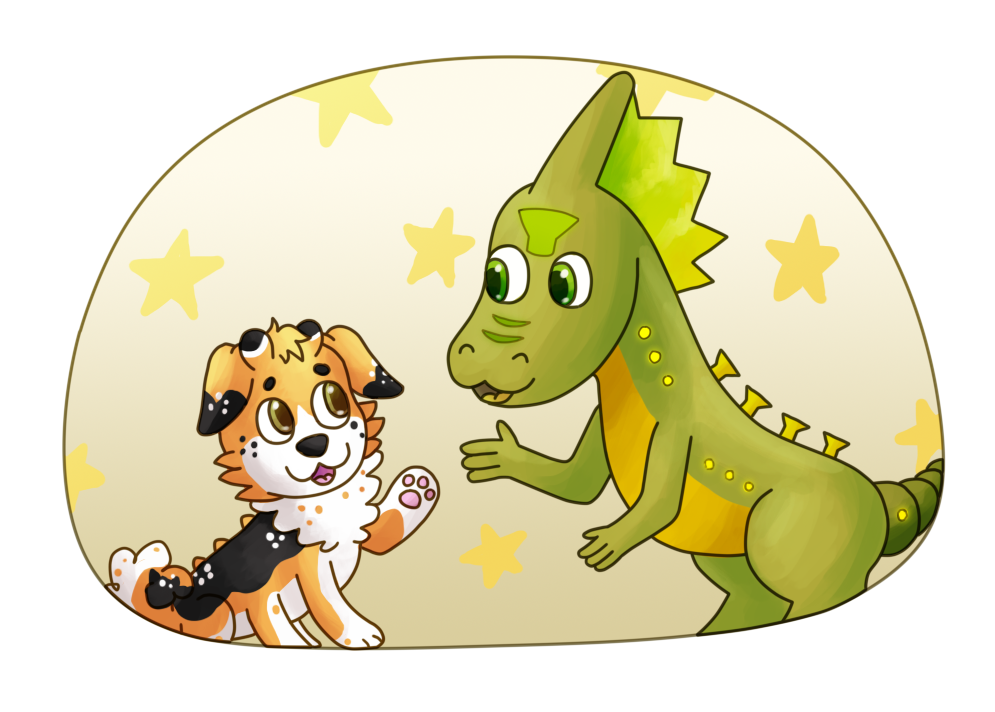 (Art by
mewhaku
and
Provie
- creator of Puppillars)

Oh? What a curious Whiffling Ginkgo has befriended there! They've got so many arms... are they a Maverick? And they just smell like... dog fur? Or, what is that... *sniff* *sniff* Is that oatmeal shampoo?! What a strange scent for a Maverick!!
...
Wait, Ginkgo, what do you mean that's not a Whiffling at all?? A Pupp-what? Puppillar? Oh my god is there yet another species on Lingua we've somehow never noticed before?
...
What do you mean "not quite"?!
Looks like one of those strange portals that kept opening a few years back never fully closed and managed to reopen to reveal a pathway to the magical world of Arcanis! Ginkgo of course immediately began communicating and befriending the curious creatures that came through the portal, while some others began forming an exploration party that shall venture into the portal.
Seems like there's a lot of activity happening!
World of Lingua and Puppillars Crossover MYO Event!

Hey everyone! This month we are excited to announce a collaborative event with the Puppillars group - a magical ARPG that is very near and dear to our hearts!
For those who haven't heard of Puppillars before:
It is a fun multi-species ARPG website similar to our own, set in a magical world bustling with their species Puppillars (many-legged Dog-Caterpillar hybrids), Snailcats (adorable Snail-Cat hybrids) and Arcane Fauna (animals infused with arcane magic)! To learn more about them, we recommend checking out their Beginner Guides.
The Venn-Diagram of our two communities most definitely has some overlap already, but we're excited to increase it further by sharing their ARPG with any of you who might not be familiar yet - and we've prepared some fun crossover activities to achieve that! =)
All the crossover activities will end at the end of the day, site time, on November 30th, so make sure to get your submissions in before that time!
Crossover MYO Event
As part of this event, First Time Owners are able to claim free MYO slots of any of our species they don't already have a character or MYO slot/item of. This includes: Paralogos (choice of either a level 1, level 2 or level 3 MYO slot), Triceridos and/or Whifflings (common MYO slot).
In order to claim your MYO slot(s), simply make a submission to the Crossover Event Prompt and mention in the "comments" section which slot(s) you'd like to claim.
Puppillars will also be doing the same, with First Time Owners being able to claim a Puppillars, Snailcats and/or Arcane Fauna MYO slot!
Make sure to check out their news post for all the details!
---
MYO Submission Bonus
To go along with the MYO event, there will also be a bonus for any and all MYO slot submissions this month! All approved MYO submissions for any species will get a bonus General Goodies Bag, which contains either a Paralogos or Whiffling-related gift!

---
Cross-Species Currency Bonus
As another special bonus for all members, for the month of November, members of World of Lingua can claim bonus WoL-currency for any art they do for Puppillars!
All art submitted to Puppillars' gallery in the month of November will earn a bonus of either 5 Ink or 5 Bottlecaps over here at World of Lingua!
To claim your Ink/Bottlecaps, simply make a submission to the Crossover Event Prompt including the link(s) to the art you have submitted to the Puppillars gallery, as well as whether you'd like to receive Ink or Bottlecaps!
Puppillars will be doing the same, meaning that you can also claim bonus Puppillars currency for any and all art you submit to our (WoL) gallery for the entirety of November!
---
Cross-Species Adoptable Set
Later this month, we will have a very fun special Guest Adoptable set by staff members from Puppillars, and in turn Puppillars will have a guest adoptable set by staff members from World of Lingua!
More details coming soon!
---
Special Memento
Any World of Lingua member who participates in any part of this event will receive a special Pembroke Signature Memento:


We hope you all enjoy this amazing crossover!
We, the WoL admin team, are so excited that we got to work together with the incredible Puppillars staff on this cross-species collab and thank them so much for making this all possible! <3
---
There are no comments yet.
Comments
Authentication required
You must log in to post a comment.
Log in