Go Touch Space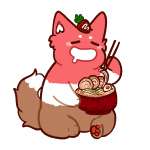 A collaborative effort between Shrike and myself~!
Melon Cream Soda doubts the existence of Space while Space the Paralogos espouses on the beauty of the concrete vastness. Tia is happy to mediate between the two fo them untill... 
---
Submitted By Shadonut for TYOC: Concrete vs Abstract ・ View Favorites
Submitted: 1 year ago ・ Last Updated: 1 year ago
Mention This
In the rich text editor:
[thumb=1001]
In a comment:
[![Image](https://www.worldoflingua.com/images/gallery/1/1001_QN6JnqBg5E_th.png)](https://www.worldoflingua.com/gallery/view/1001)
Comments
Authentication required
You must log in to post a comment.
Log in