[Gift] [Happy Birthday!] The Curious Cave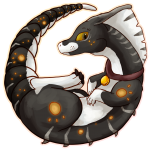 Was away on a trip during Mouse 's birthday not too long ago, so a bit of a delay in uploading (though I was hype to send it that day... :D ) -
A scene of Mal with comfort stone in hands, looking back from a mysterious cave... is this one of the few places in Lingua that still has malachite deposits? Curiouser and curiouser!
I haven't drawn Mal for oh gosh.. so many years, but Mal is super special since that was Mouse's first Paralogos!!! I hope you had a wonderful birthday Mouse!! <3 
My commission info is here + other info (Patreon) is also here on my cardd!
---
Submitted By mewhaku ・ View Favorites
Submitted: 3 weeks ago ・ Last Updated: 3 weeks ago
Mention This
In the rich text editor:
[thumb=429]
In a comment:
[![Image](https://www.worldoflingua.com/images/gallery/0/429_xv4rDfV9YK_th.png)](https://www.worldoflingua.com/gallery/view/429)
There are no comments yet.
Comments
Authentication required
You must log in to post a comment.
Log in