Do What You Can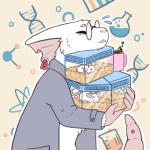 Dawley wanted to go ham for pride this year but they were volun-told to give a seminar at an upcoming conference... so they had to scale down their plans... god they're so tird
Dawley is demiromantic... for the most part they don't feel a big emotional need for romance in their life & they don't really have the time anyway. It's not unheard of for them to have developed romantic feelings towards people they already know well though & they tend to fall hard when they do.
---
Submitted By Shrike ・ View Favorites
Submitted: 1 month ago ・ Last Updated: 1 month ago
Mention This
In the rich text editor:
[thumb=200]
In a comment:
[![Image](https://www.worldoflingua.com/images/gallery/0/200_8VQbmMsWap_th.png)](https://www.worldoflingua.com/gallery/view/200)
There are no comments yet.
Comments
Authentication required
You must log in to post a comment.
Log in