Acorn Reference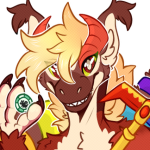 Tier 1 Magic: Temporary sprouts "grow" from lights and caps.
Acorn (he/him) is a relatively unbothered Parlagos. Like the seeds of the trees that inspired his word focus, he's content to stay still and wait until the time is right for any action. Due to this, he's often approached for his wisdom on any topic -- he's had a lot of time to think, after all, about just most everything.
This slow way of approaching life can have its detriments, however. Acorn is often not up to date with the most current events, and he may seem rude to other Paralogos that think he has his heads in the clouds rather than traveling to save his word focus.
But Acorn is content to wait, and learn by a more low-key experience. 
---
Submitted By Oboe ・ View Favorites
Submitted: 1 year ago ・ Last Updated: 1 year ago
Mention This
In the rich text editor:
[thumb=1652]
In a comment:
[![Image](https://www.worldoflingua.com/images/gallery/1/1652_0ICPYtsNR9_th.png)](https://www.worldoflingua.com/gallery/view/1652)
There are no comments yet.
Comments
Authentication required
You must log in to post a comment.
Log in