Submission Types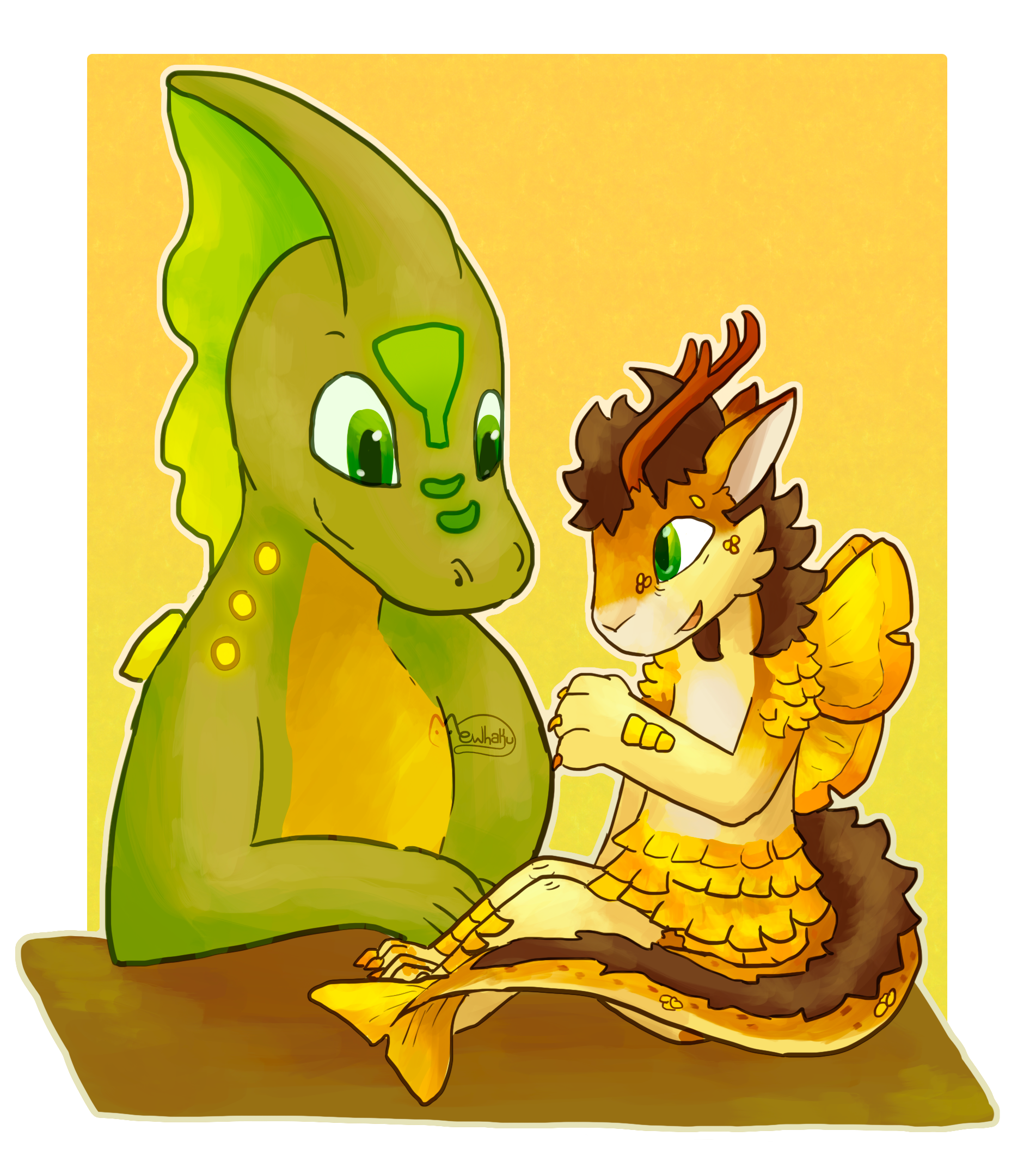 2023 [1/12] Introductions
Ends: 31 January 2023, 23:59:59 EST (1 day from now)
January 2023 WoL Prompt - See Details for full information!
Details
This Month's Prompt: Introductions
With a new year, there is a new start- new beginnings. It has been some time since individuals have been acquainted with one another. Let us start the new year with, well, Introductions!
Ginkgo and Gin are formally introducing themselves to one another. Talking with their Caretaker Sera, they're learning more about one another.

For this Prompt, you can draw or write about one or more of your WoL characters introducing themselves either to another character or to the wider world of Lingua in general! Perhaps they're showing an interest of theirs, or showing off their Companion or Pet. It is up to you!

[This essentially means you can draw your character showcasing a favorite thing of theirs, a Magical Skill of some sort, or just show two characters interacting.]
Who can You draw?
- Your own Paralogos, Whifflings, Companions, Pets and Caretakers
- The following NPCs/mascots: Ginkgo, Gin, and any NPCs that have gift art/gift writing set to "Yes"
- Other member's Paralogos, Whifflings, Companions, Pets and Caretakers (if their gift art / gift writing status is set to "Yes")
Rewards

Guaranteed Reward: +5

or +5

per submission.
Bonus Reward(s): +5

AND +5

per submission that fulfills the following requirement(s):
- Draw or depict through writing at least two (2) characters interacting!
Additional Note:
Every 3 Prompts you participate in you will gain the following rewards- All you need to do is submit a claim, and link the relevant prompt submissions you've completed to get your reward! Please note, these have to be from individual months.
3 Prompts: 1 Mysterious Simple Bag

6 Prompts: 1 Mysterious Simple Bag

9 Prompts: 1 Mysterious Fancy Bag

12 Prompts: 1 Mysterious Fancy Bag
How to Submit Entries
You can make a maximum of 3 prompt entries.
First, submit your artwork/writing to the Monthly Prompts folder and select this prompt in the "prompt" section.
When that has been approved, make a submission to this prompt with the link to your gallery submission in the "URL" section.


Note: If this monthly prompt has vanished by the time your submission gets approved, you can still submit it to the "Late Box" prompt.

In your prompt submission description here, please add whether you want ink or caps for your guaranteed reward.


Your entry must be worth at least 5 of the respective currency for you to get any reward.

You do not need to mention the bonus reward, as it will be applied automatically regardless of chosen guaranteed reward, assuming you fulfilled the requirement.

Yes, it is absolutely fine if no Paralogos or Whifflings are actually involved, as long as you hit the minimum worth.
Rewards
No rewards.
1 result found.