Submission Types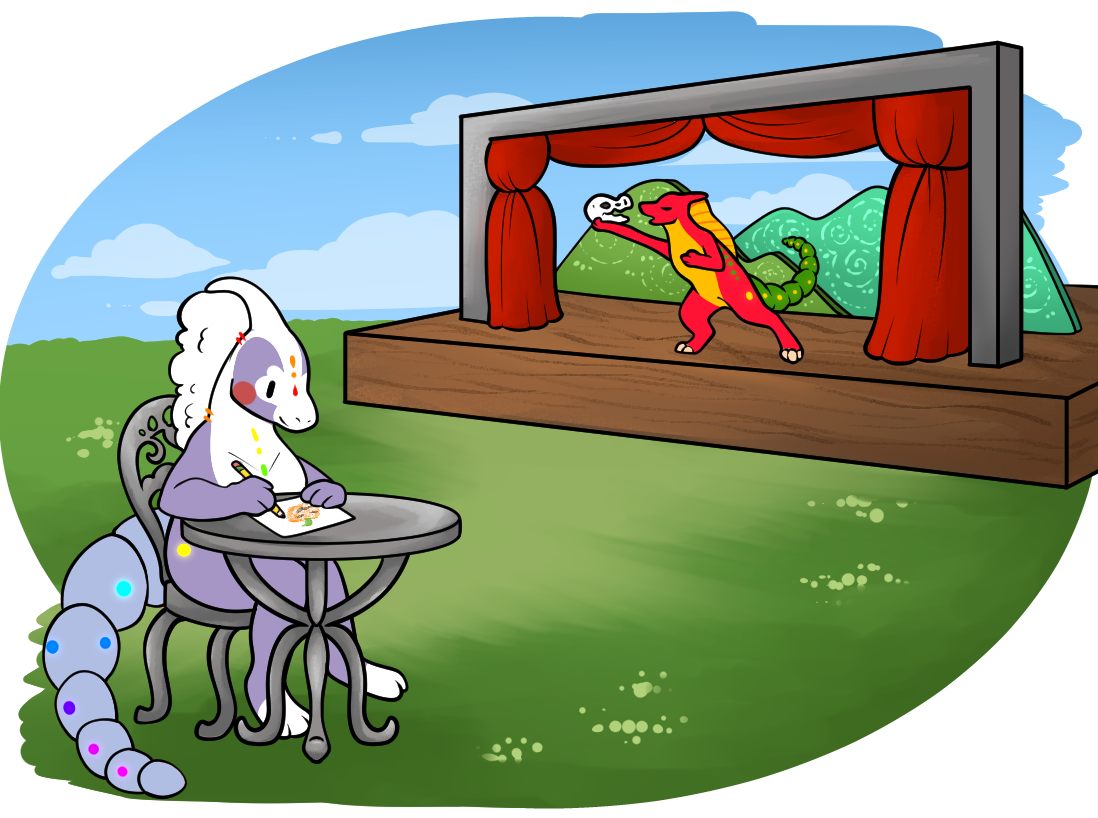 TYOC: Art Pieces vs Performances
Ends: 8 September 2022, 23:59:59 EDT (3 weeks from now)
Submit your Monthly Prompt entries here (check details for rules/guidelines)
Details
[It seems that Shadonut is a connoiseur of the fine arts.. Or at least, whatever art Plushie is creating and Paprika is performing.]
Hahaa! Now that was refreshing. An actual competition, within the year of competitions!
Though now comes the next hurdle.. another month, another competition..
Last month did seem to have a lot of people creating art..
At least, before getting interrupted with water, hee hee..
Perhaps an extension of that is necessary?
Who needs to draw or write though?
Is the best art not the art of performance?!
The Year of Competitions:
Art Pieces vs Performances
No, Paprika, people disagree with your statement. But that is likely his goal, is it not..
What about you? Do you agree? Or disagree?
Maybe show your Paralogos or Whifflings writing, drawing.. any art piece that is a physical object would work.
Maybe sculpt! Maybe paint! Maybe chisel a statue out of some hard material!
Ah, but see Paprika frown- after last year's play, clearly he wants to see some theatrical performances!
Ofcourse, it is not just theater that is worth of the title performance art! Making music, doing any show..
But whatever creative outlet your character prefers to do, whether it is creation or performance..
... it is up to you!
Hold up, there's more to this:
By sending in a prompt submission for a side on any of the Year of Competitions prompts, you are locked in for said side.
While you're still allowed to display characters from the other side, your prompt submissions are not allowed to be for the other side.
You are, simply put, only allowed to join one side of the debate each month, as there is a little bonus for the winning side!
Who can You draw?
- Your own Paralogos, Whifflings, Companions, Pets and Caretakers
- The following NPCs/mascots: Ginkgo, Paprika & Gin
- Other member's Paralogos, Whifflings, Companions, Pets and Caretakers (if their gift art / gift writing status is set to "Yes")
Rewards
Guaranteed Reward: +5

or +5

per submission and +1 Year of Competition raffle ticket!
Bonus Reward(s): +5

AND +5

per submission that fulfills the following requirement(s):
- Have your character perform a theater superstition! Whether it is saying MacBeth around stage or something more positive, is up to you.
- In your prompt submission's description, please add a link to the site on which you've found this superstition. You will need to prove this one.
Please note that ink and cap rewards may be increased this year depending on your activity.
And you will only gain a YoC Raffle Ticket once per month, if you have less than 3 tickets total.
Read this newspost for further details regarding the increasing rewards and Year of Competition tickets.
How to Submit Entries
You can make a maximum of 3 prompt entries.
First, submit your artwork/writing to the Monthly Prompts folder and select this prompt in the "prompt" section.
When that has been approved, make a submission to this prompt with the link to your gallery submission in the "URL" section.


Note: If this monthly prompt has vanished by the time your submission gets approved, you can still submit it to the "Late Box" prompt.

In your prompt submission description here, please add whether you want ink or caps for your guaranteed reward.


Your entry must be worth at least 5 of the respective currency for you to get any reward.
The bonus reward will be applied automatically regardless of chosen reward, assuming you fulfilled the requirement.
Yes, it is absolutely fine if no Paralogos or Whifflings are actually involved, as long as you hit the minimum worth.
Rewards
1 result found.