check out how hard I can knowledge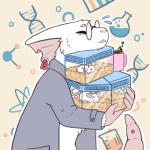 As a Wicked Paralogos, moderation isn't in Six's nature. In their relentless pursuit of knowledge, they read multiple manuscripts simultaneously, they listen to audio files at 5x speed, their browser is crammed with windows upon windows of tabs. It's all rather extreme, but they never seem to be satisfied.
Show-off..........
---
Submitted By Shrike for TYOC: Knowledge vs Skill
Submitted: 2 months ago ・ Last Updated: 1 month ago
Mention This
In the rich text editor:
[thumb=1602]
In a comment:
[check out how hard I can knowledge by Shrike (Art) ・ **Content Warning:** Many Eyes](https://www.worldoflingua.com/gallery/view/1602)
There are no comments yet.
Comments
Authentication required
You must log in to post a comment.
Log in