[Gift] Aeon (Synthwave) - Intraspecies Opinion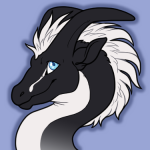 A budding friendship developing between the two Paralogos, Aeon agrees to allow Kara to study their cybernetic anatomy in detail. They end up meeting outside the downtown music shop, where Music just so happens to be browsing. Excited to show off their robotic prosthetic, Aeon eagerly twists their arm and uncouples the locking mechanism, fully detaching the limb from their body.
"Tada!" Aeon trumpets.
"Fascinating..." Kara mutters.
"Gross!!" Music exclaims.
---x---
Aeon thrives off of attention from others, whether it be positive or negative. They are generally a friendly critter and make acquaintances fairly easily, but sometimes their quirks make other Paralogos shy away.
---
Submitted By kazulthedragon for Wisdom Tasks ・ View Favorites
Submitted: 5 months ago ・ Last Updated: 5 months ago
Mention This
In the rich text editor:
[thumb=1500]
In a comment:
[![Image](https://www.worldoflingua.com/images/gallery/1/1500_g5AkB9tSJU_th.png)](https://www.worldoflingua.com/gallery/view/1500)
There are no comments yet.
Comments
Authentication required
You must log in to post a comment.
Log in